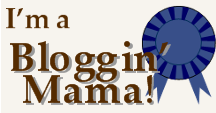 Take the Mom Blogger quiz!
I've just been out surfing around checking out some blogs....not cleaning the den like I am supposed to be doing...and I found a really neat blog named
Mamablogga
. I've been there before but I had never bookmarked it...not sure why because it's a neat place! Maybe something was on fire...you never know around here...
Anyway....
Mamablogga
has a neat quiz you can take so scoot on over and see how you do!